Hi everyone! Laura here from Pet Scribbles, with my altered composition book DIY. This is a cost effective transformation of a dollar store blank book into a meaningful gift for a graduate on their way to college, a friend who loves to journal, or as a handy – yet beautiful – notebook for you!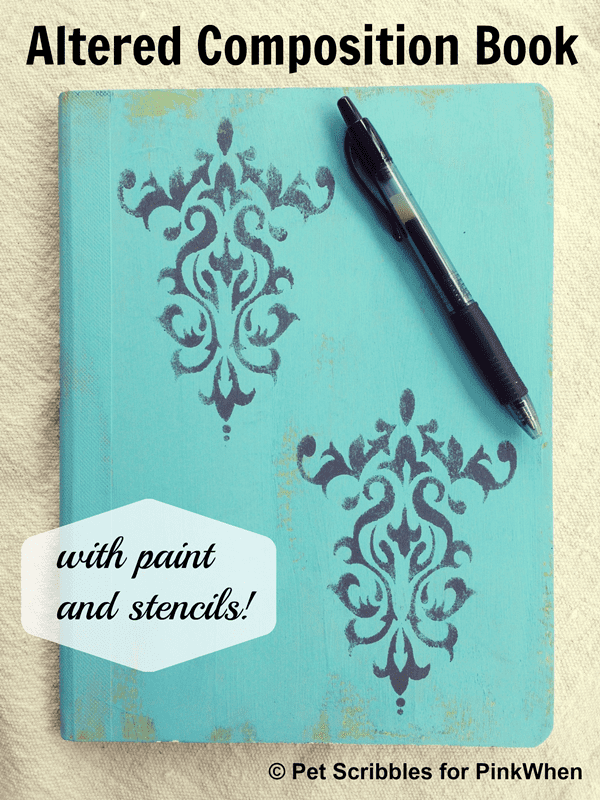 You've seen these composition books everywhere, like this example from Wikipedia: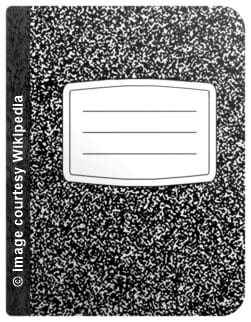 And, truth be told, they do have a nice, retro look to them . . .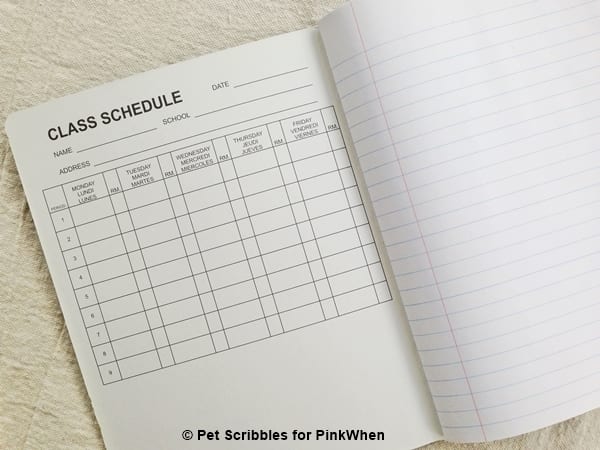 But I decided to create an altered composition book. There's so many wonderful examples on Pinterest, using all sorts of materials and embellishments. And some of them are really elaborate – I can only imagine how much time went into creating them.
I altered this particular composition book using chalky finish paint and stencils. That's it! It doesn't take very long to do, and the results are wonderful!
Altered Composition Book with paint and stencils
Step One: Paint one coat of your base color – I used green chalky finish paint – on each side of the composition book, making sure to paint some areas heavier with paint while leaving other areas with just a light coat. Let dry. (See image below.)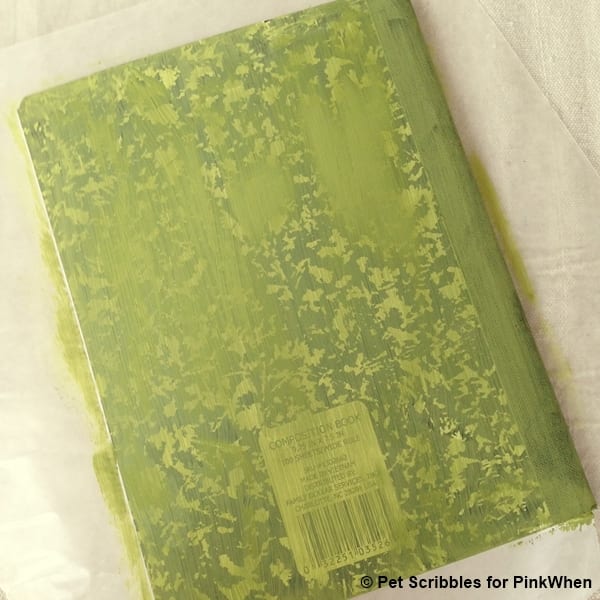 The composition book cover is coated cardboard – which is perfect for painting on!
Step Two: Repeat Step One, this time altering where you paint the heavier and lighter coats from how you painted them the first time. Let dry.
Step Three: Apply one coat of your top color – I used turquoise chalky finish paint – to each side of the composition book. Work quickly, using a good amount of paint — no thin coats here — but leave a few areas here and there for the base color to show through. Let dry. (See image below.)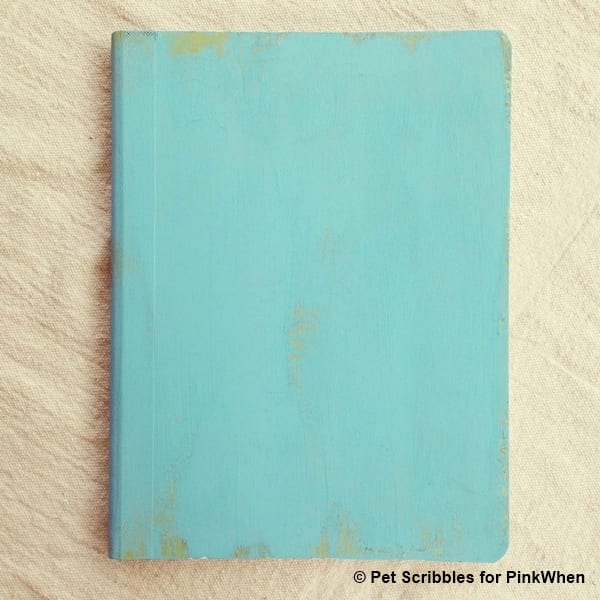 Get a good amount of paint on your brush, and apply it with an up-and-down motion, spreading the paint as you go. As you paint, your brush will have less and less paint on it, and that's what helps to easily let your base color show through.
Imagine if you dragged your paintbrush along in one continuous motion left to right. Eventually the paint will begin to thin out and become almost spotty in places. That's exactly how I got this look.
Altered Composition book
Here's a close-up view of the base color (green) showing through the top color (turquoise):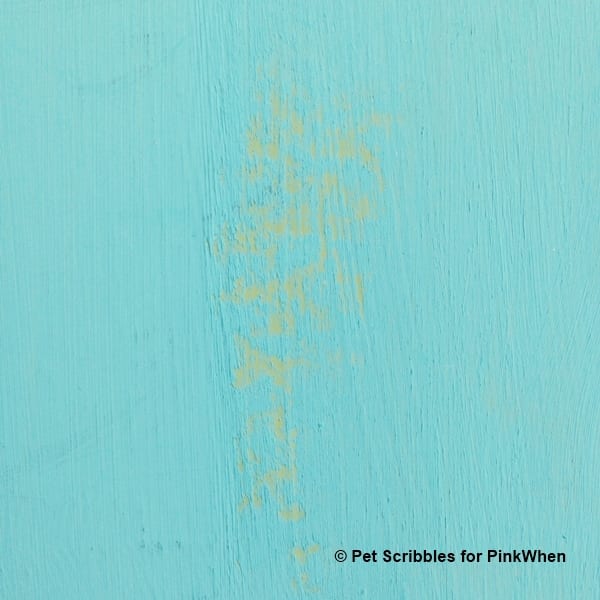 Step Four: Add a stencil design to each side of the composition book using a third color (dark grey) of chalky finish paint. Let dry.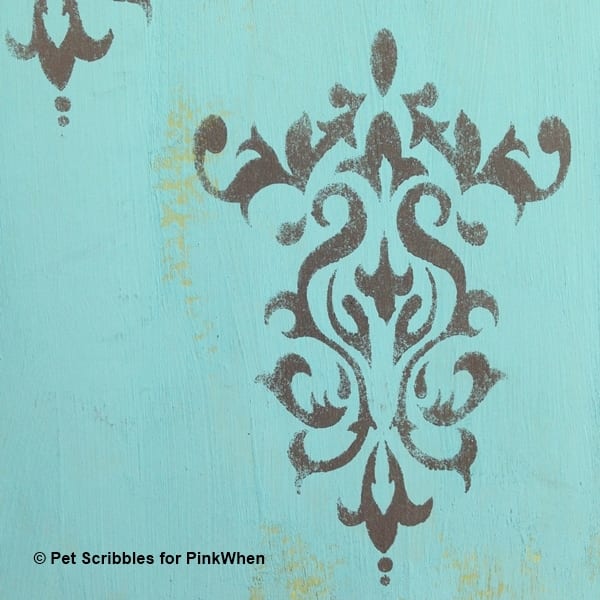 I chose the Brocade and Berry Borders stencil from DecoArt. The brocade motif reminds me of a wallpaper design.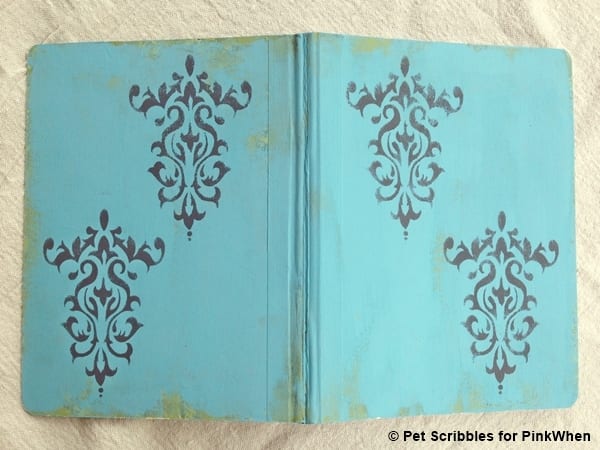 Once your composition book is dry, you're finished!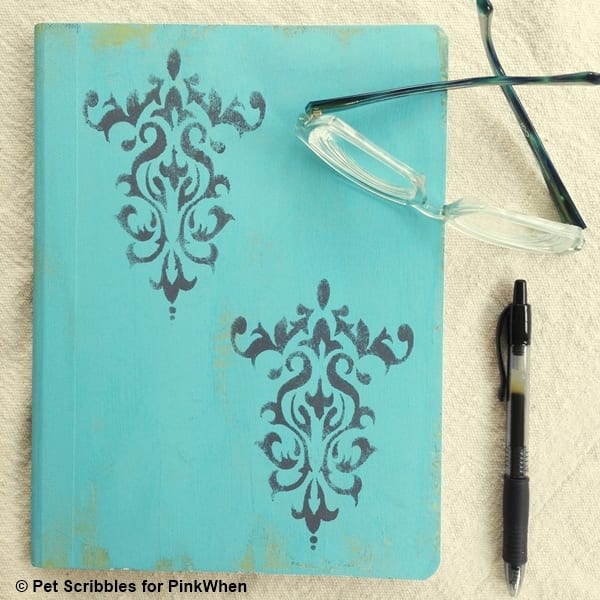 Optional step: You can further embellish these composition books depending on the recipient. Add a name, initial or monogram. Add words such as "Journal" or "My Dreams" or something similar.
Remember: There's no right or wrong way to create an altered composition book, and that's part of the fun, as each book becomes a unique, treasured piece of art that's also useful. Win-win!
Happy crafting!
~Laura